[vc_row type="in_container" full_screen_row_position="middle" scene_position="center" text_color="dark" text_align="left" overlay_strength="0.3″ shape_divider_position="bottom"][vc_column column_padding="no-extra-padding" column_padding_position="all" background_color_opacity="1″ background_hover_color_opacity="1″ column_shadow="none" column_border_radius="none" width="1/1″ tablet_text_alignment="default" phone_text_alignment="default" column_border_width="none" column_border_style="solid"][vc_column_text]
The Army is offering the best jobs and big bucks to qualified soldiers as it works to hire and retain across the force.
The work is part of a sweeping effort to bring the Army's active and reserve components back up to a combined end strength of more than 1 million soldiers.
There are lots of bonuses to be had, but a few military occupational specialties in particular are offering big perks for qualified candidates.
Whether you're looking to join the Army, considering re-enlistment or pondering a new MOS, there are all kinds of opportunities to make some extra cash or join an airborne or special operations unit.
In general, you'll need to score well on aptitude tests and have some flexibility in your timeline, but the rewards can be worth it, the top enlisted soldier for Army Recruiting Command told Army Times.
The key is to find the sweet spot between each potential recruit or soldier's desires — is it a certain job, a certain amount of money, a certain post, or a certain time frame?
"Say a young man wants infantry. 'All I want's infantry.' Well, I don't know if you can get infantry right now, between now and September. There are times when that branch will close," Command Sgt. Maj. Anthony Stoneburg said in a June 30 interview. "These are the other MOSs that we have available, these are the incentives, how about that?"
If that recruit wants to go now, there are some jobs with wide-open slots and big bonuses, which the infantry isn't offering right now.
"There is a group of young men and women that are motivated by money — 'I'll take anything leaving tomorrow for the most amount of money,' " Stoneburg said.
And with the right background, motivation, and Armed Services Vocational Aptitude Battery score, soldiers and potential recruits could net big bonuses, opportunities for promotion, and skills for civilian jobs to carry with them after they leave the Army.
The best way to find out what you qualify for, officials said, is to contact a recruiter or career manager.
Re-up for $$$
A range of selective retention bonuses is always available for low-density MOSs, but this year, the Army kicked things up a notch, not only to retain highly skilled soldiers but also to keep more personnel overall to meet the 2017 National Defense Authorization Act's mandate of 476,000 active-duty soldiers.
In addition to big bonuses for in-demand soldiers who stay in their fields, the Army is offering the same bonuses to soldiers in their re-enlistment windows who decide to make a change.
For instance, an airborne-qualified combat medic NCO who wants to go special operations can re-enlist, complete the spec ops qualification, and net between $21,100 and $72,000, based on rank and length of contract.
There's a similar bonus for culinary specialists who are willing to go work for the 75th Ranger Regiment — between $11,300 and $46,000 for E-3s to E-6s.
And though it's coming down to the wire, soldiers with an ETS date before Sept. 30 will get a $13,000 kicker on top of that bonus for helping the Army reach its current end-strength goal.
That offer is also open to soldiers who want to change MOSs completely.
It's tough to qualify for the cryptologic network warfare specialist MOS — you need to get a top-secret security clearance, at least a 112 on the ASVAB's skilled technical portion, and 60 or higher on the Information Communication Technology Literacy test — but a private first class can net $17,600 for between one and two more years of service.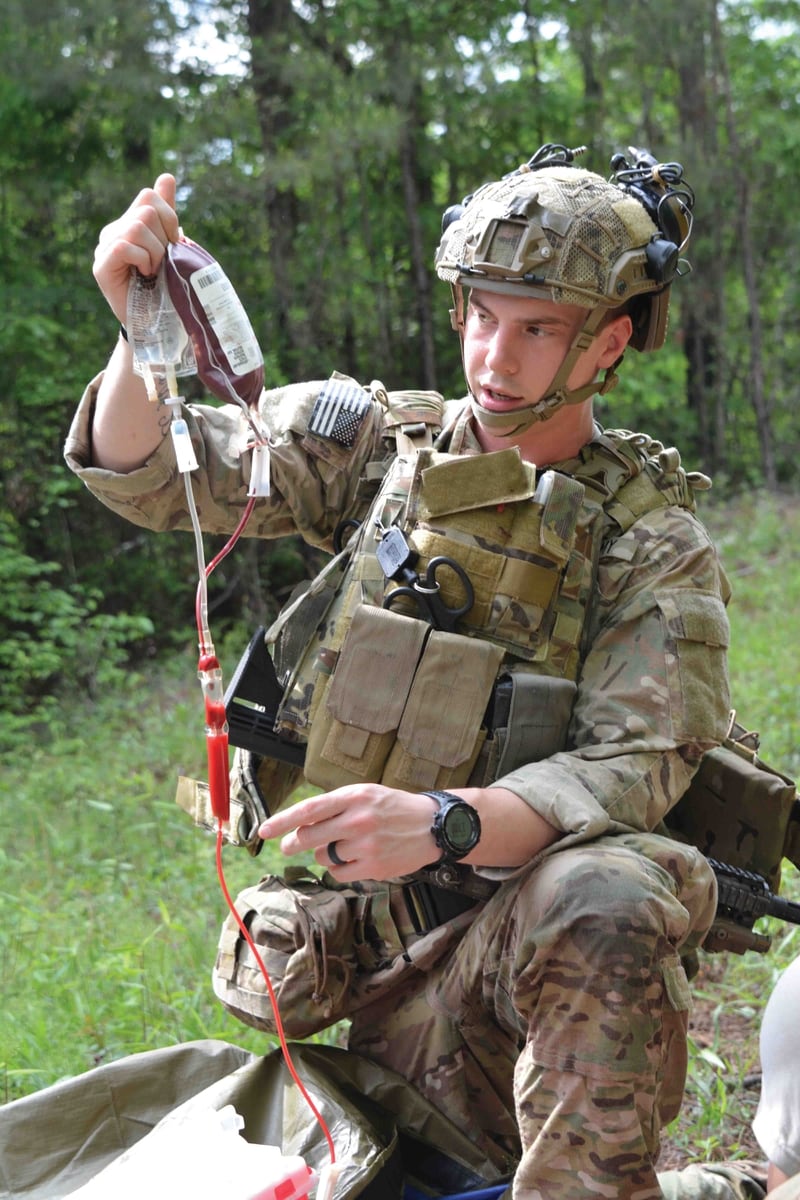 A medic from the 75th Ranger Regiment conducts combat trauma management training on April 15 at Fort Benning.
A medic from the 75th Ranger Regiment conducts combat trauma management training at Fort Benning, Ga. The Army is offering big bucks to soldiers who re-up to become combat medics in the Ranger Regiment and the 160th Special Operations Aviation Regiment.
Photo Credit: Pfc. Eric Overfelt/Army
Other MOSs offering similar perks include cyber network defender, unmanned aerial vehicle repairer, linguist, and special operations paramedic.
"We currently offer selective retention bonuses for each of these skills as incentives for currently active soldiers to retrain into them," Army spokesman Paul Prince told Army Times.
The bonus goes all the way up to $72,000 for a staff sergeant or sergeant first class who signs on for five years or more, in a new MOS on the cutting edge of warfare and with room for growth.
"Additionally, soldiers who retrain into the critical skills may see quicker promotions due to the shortage of promotion-eligible soldiers currently serving in the critical MOS," Prince added.
The right stuff
It's a difficult enough task for the Army to retain the skills of soldiers it's invested in, but Stoneburg and his command have to go out into the civilian world to explain to young Americans not only what the Army can offer for their lifestyle, but also what some of these highly technical jobs actually entail.
"There are 150 MOSs in the Army, and as long as I've been a recruiter, I couldn't tell you every one or what every one does," he said. "The MOS description or the title doesn't always help either."
Because recruiters don't have the time to study up on or embed with every last MOS in the Army, they rely on informational videos and published materials about the jobs.
Still, Stoneburg said, recruiters tend to recruit "in your own image." And because most recruiters are pulled from larger MOSs with NCOs to spare, they tend to be the best advertising for the most crowded career fields.
"If I have a lot of infantry soldiers in the office, and somebody says, 'Hey, I want to be a cryptological guy,' well, we don't have a lot of experience with that, but I can tell you what the infantry does," Stoneburg said. "That does play into it."
Still, the command works hard to reach out to STEM programs at local high schools, while having at least a description of what each MOS will teach a soldier and how that can translate into a career after the Army.
"Some are more focused on long-term opportunities," Stoneburg said. "We can tell them the most information available, but, ultimately, they choose. And a lot of times that's based on what their family influence is."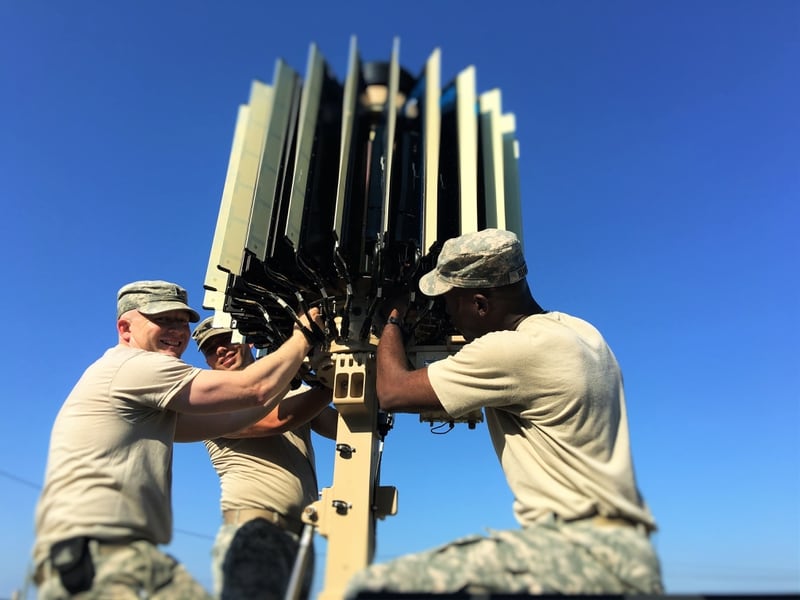 Soldiers from 1st Battalion, 101st Field Artillery Regiment assemble the Q-50 Lightweight Counter-Mortar Radar system during annual training at Joint Base McGuire-Dix-Lakehurst, N.J. Field Artillery Fire Finder Radar Operator is one of the top jobs the Army is trying to fill as it grows the ranks.
Photo Credit: Staff Sgt. Steven Littlefield/Army
USAREC is offering $10,000 to $40,000 enlistment bonuses for Patriot fire control enhanced operator/maintainers, for example, who would be responsible for the Army's primary surface-to-air missile system.
There's also the very technical satellite communication system operator/maintainer, which has the same bonus. To qualify, a recruit must have taken a year of algebra and a qualified science in high school, or a semester of those in college.
They also need to score 117 on the electronics portion of the ASVAB.
But because it's such a small MOS, it's only open at certain times of the year, when Training and Doctrine Command is preparing to accept a new class of only several dozen.
"It could be that a young man or a young woman comes to a recruiting center and they're qualified, and they may be interested in the 25S MOS," Stoneburg said, referring to the visual information equipment operator/maintainer, for which the Army is recruiting hard to serve in special operations.
"But they're excited and they want to go today, or within two weeks," he added. "And that MOS is not available until four or five months later. So that will sometimes influence their decision as well."
There are also options for those who don't have the highest qualifications but still want to work in elite environments.
For instance, the Army is offering a big bonus to recruits who select 88M with a position in the Ranger regiment, according to James Lewis, an analyst from USAREC's operations branch,
"To be honest with you, not many guys who want to be in the Rangers want to be a truck driver," he told Army Times. "That's why it's $10,000."
[/vc_column_text][/vc_column][/vc_row]